traveling slowly, affordably, and productively
September 08, 2021 • 6 min read
I'm in Berlin this month. It's my first trip working while traveling, rather than taking vacation when I travel.
My trip is slow-paced. I'm here for a whole month, so I have time to settle in, and I spend most weekdays working.
I learn about the culture through going about daily life. What's grocery shopping like here? How does the subway work? How do I dry my clothes without a dryer? How do tips work? What does it mean when a German is curt…are they mad or just being efficient?
I enjoy this type of travel, but there's a learning curve. Here's what I've learned about traveling slowly, affordably, and productively:
1. Get a WeWork membership
Early in our trip, the subway line near us shut down for a few days (due to a labor strike, how very European).
That doubled our WeWork commute, which was a nice excuse to work out of local cafes (or so we thought).
We walked to a nearby cafe, but they didn't have wi-fi. Then we tried another cafe, but the tables were too small — unsuitable for working on. Then another cafe, but all the tables were outdoor and there were no outlets. And another, and another. None of the cafes suited our basic work needs.
Finally, we gave up and commuted to WeWork.
weworks are the mcdonald's of offices...it's really nice to know what you're getting, no matter where you are in the world

— priya in berlin (@Prigoose) September 1, 2021
McDonald's is a classic road trip stop because it's reliable and has exactly what you need: cheap, quickly prepared food, and clean bathrooms.
Likewise, there's a comfort in knowing exactly what to expect at a WeWork: a quiet workspace where you can stay all day (and all night if you wish), with desk space, outlets, phone booths, free coffee, and great wi-fi.
Yes, WeWorks look the same everywhere. You lose the charm of sitting on the sidewalk of a uniquely Berlin cafe. But since I'm here all month, I can enjoy the charm when I'm not working.
2. Find a place to stay through friends (not Airbnb)
Subletting through a mutual friend is 4-6x cheaper than Airbnb. Plus, many Airbnbs are set up for vacationing, whereas when you sublet, your room often comes with someone's quarantine work setup (including a desk and monitor).
As a price comparison:
Berlin rent is very cheap. We are spending half the month in one sublet and the other half in another. Both are charging us about €300 ($350), so we're spending $700/month total on rent (split between my partner and I, so $350 each).
By comparison, most nearby Airbnbs are between $1200-$2500 per month for a room (and more if you get your own apartment).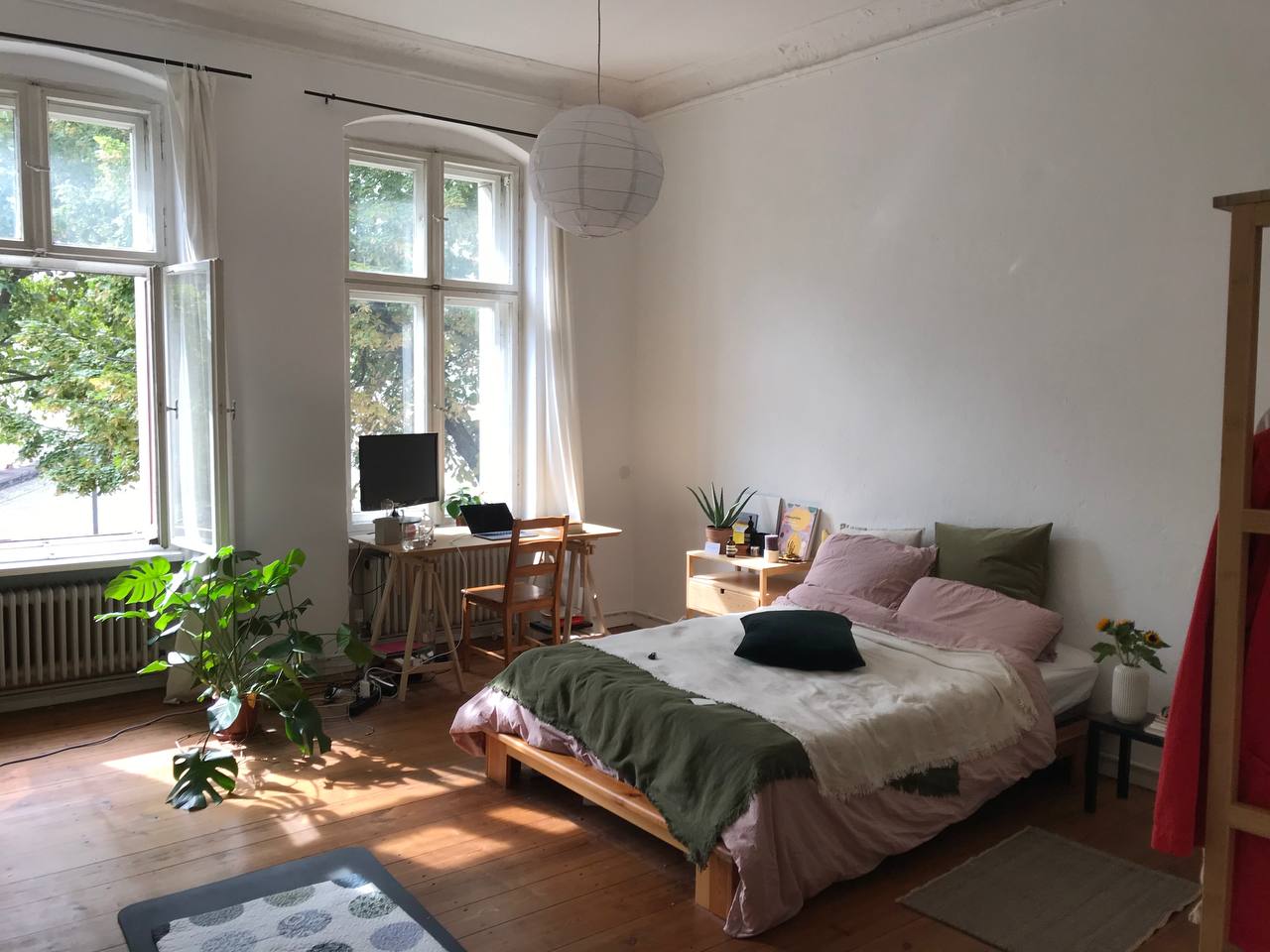 A beautiful room we are staying in. Centrally located. We are paying $342 for two weeks, or $24.40 per night. On Airbnb this room would be closer to $100 per night.
3. Find friends through Twitter.
How do I have friends to sublet from on the other side of the world from me? Twitter.
A Twitter friend introduced me to another Twitter friend who introduced me to an IRL friend who was subletting her room for the first half of the month. The second half of the month I'm staying with a Twitter friend who saw me post that I was visiting Berlin.
In addition to making your travel accommodations much more affordable, Twitter friends (and their IRL friends) let you quickly bootstrap a social life.
Via my Twitter friends, I've been invited to places I wouldn't have been able to go otherwise; I've seen a side of Berlin that's locked away to most tourists.
The highlight so far was when Oliver Sauter gave us a tour of his 50-person co-living and co-working building. Afterwards we had dinner at his place, where I met Germans and ex-pats who felt like kindred spirits. (Co-living people often feel like "my people." I used to run a co-living house in SF!)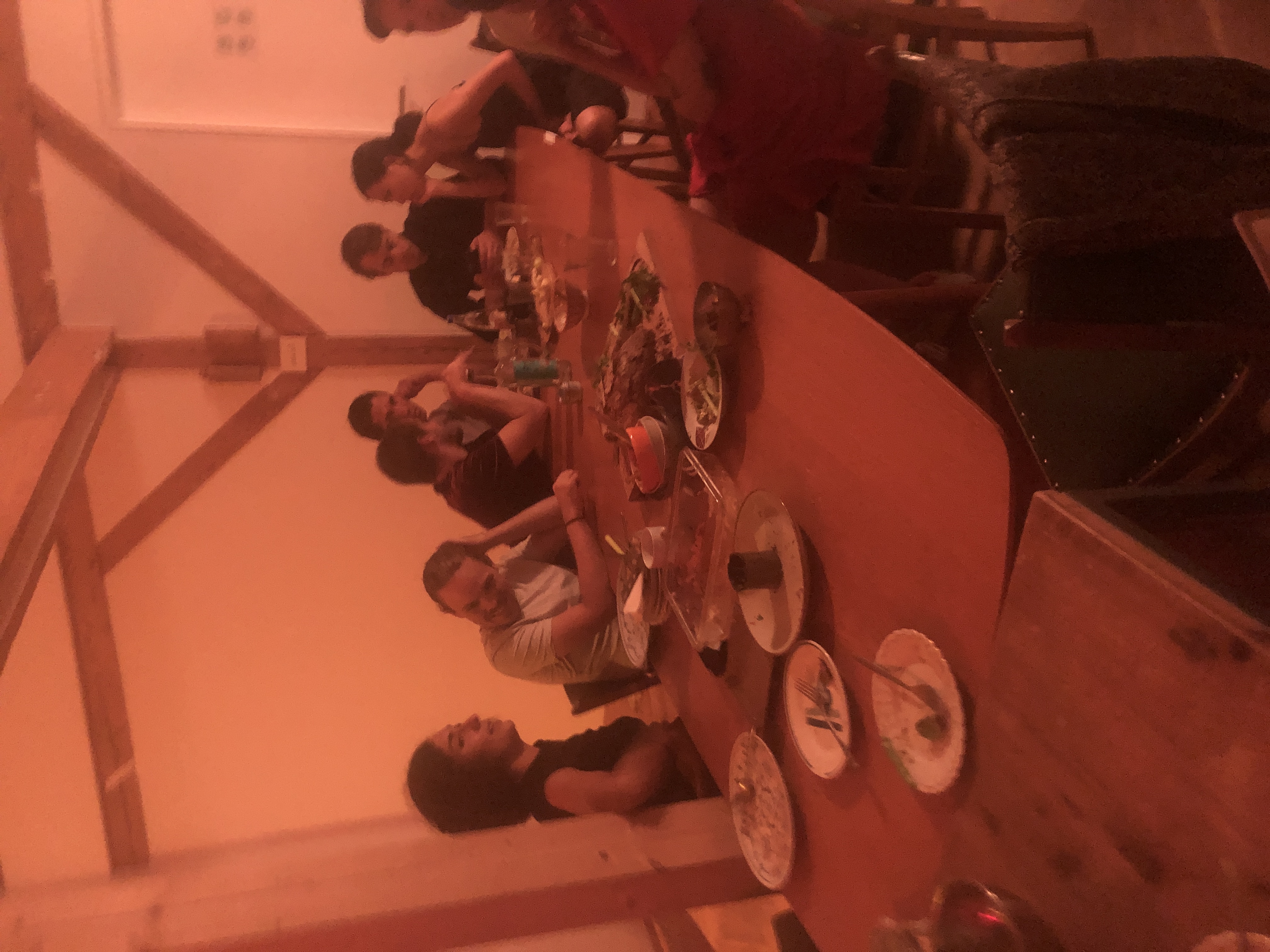 Dinner at Moos, deep in after-dinner conversations
---
What if you're not active on Twitter? You can also try asking for intros from friends who have a connection to the city. For example, I reached out to a college friend who grew up in Berlin. But I've found this kind of outreach much less fruitful because you are usually asking only a few people; In this case, my friend hadn't lived in Berlin for 10 years, and all her friends had left the city too. Whereas when you post to Twitter, hundreds or thousands of people might see your request.
Another friend is traveling to Portugal soon, and asked me for advice on meeting people. He's not very online, but in my opinion becoming active on Twitter is worth it solely for the purpose of finding companions on your travels. Honestly, it's transformed how I travel, and saved me a lot of money.
---
4. Join the group chat
These days, there's usually a Twitter-adjacent group chat in major cities. If you can find it, then you will be plugged into events going on all the time, and can join when you want to (and keep to yourself when you want to!).
When I arrived in NYC this summer, I joined a 75 person Twitter group chat of people visiting NYC. In Berlin, I was added to a group chat with a bunch of San Francisco co-living people who are here for a wedding, and some other travelers from the Bay Area diaspora.
If there is no group chat, create one. Add anyone you know who lives in or is visiting the city. Give it a very inclusive name like "Berlin Chat," and tell people to add their friends. Then whenever you're doing something fun, post in the group chat as an open invite.
I've been to all sorts of strange and interesting events this way. Salons, birthday dinners, futurist talks. This weekend I'm headed to a sauna festival, where you literally just sauna and chill all day…I love Berlin 😂
---